Je stuurt een tweet over waar we het beste een pint kunnen gaan drinken aanstaande zaterdag en voor je het weet sta je in de plaatselijke krant. Er gebeurt niet zoveel in Scunthorpe heb ik het idee. Als nu maar niet de plaatselijke bevolking ons met hooivorken op staat te wachten.
Feyenoord fans to visit Glanford Park to watch Scunthorpe United v Northampton Town
A group of football fans from the Netherlands are due to swap Rotterdam for Scunthorpe this weekend – as they travel across Europe to watch the Iron.
Sixteen Feyenoord fans will be in the stands at Glanford Park this weekend, when Scunthorpe United take on Northampton Town.
The journey from Rotterdam – Holland's second biggest city – is around 400 miles for the travelling fans.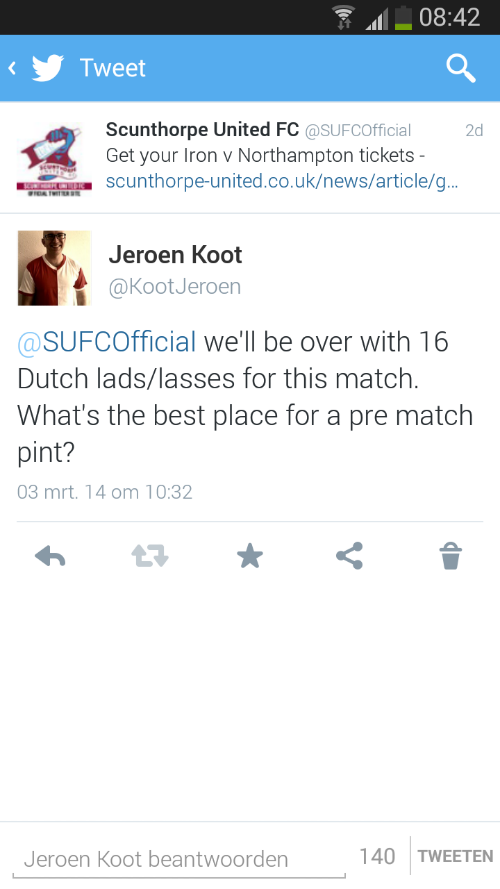 Feyenoord fan Jeroen Koot sent this message to Scunthorpe United's official Twitter feed: "@SUFCOfficial we'll be over with 16 Dutch lads/lasses for this match. What's the best place for a pre match pint?"
The group of fans are, however, no strangers to English football – having watched the likes of Lincoln City Grimsby Town, Cambridge United and Hull City.
The match kicks off at 3pm this Saturday, and could see the Iron go 19 games unbeaten – equalling a club record.
(het hele artikel staat hiero)
Update zo rond een uurtje of tien.
Het kan dus nog gekker. De BBC, de BBC mensen. We komen op de radio. Carrotbirds travels rule.